New CFOs often do not want to spend their time where it is most needed, according to a McKinsey survey of CFOs. Finance managers express that most of the first hundred days they spent on budgeting, management reporting and financial reporting. In contrast, they believe that the most crucial activities during that time are to understand the drivers in the business, provide input to corporate strategy and build the finance team.
When you start as a new CFO, it is important to substantiate the expectations of your stakeholders during the first 6-12 months on the job. Your most important stakeholders are most likely the CEO, the board and the investors. You will also have your own goals and milestones to achieve – and it is important that you understand everyone's focus and meet them in order to support them. By gaining a thorough understanding of the goals of each stakeholder, you will be better able to identify similarities, potential conflicts, and help resolve a unified strategy.
Building good relationships is more important than delivering value in the first 90 days.

– Boston Consulting Group
Your 100-day plan should align your stakeholders' expectations with your personal goals and what you can realistically achieve – and then communicate this to your stakeholders. It may be better to deal with the difficult discussions in advance to ensure that everyone is aligned before the work begins.
The biggest challenges
According to the McKinsey survey, most CFOs spend an unexpected amount of time on financial reporting, auditing, analysis and budgeting, which did not give them enough time to focus on the strategic initiative together with managers and the board.
While relatively few CFOs were involved in strategic initiatives this early in their tenure (see Appendix), those who were are more likely to say they were satisfied with the results during that time. A large majority of CFOs say they now want to be engaged in group-wide strategic initiatives, as opposed to more traditional CFO activities.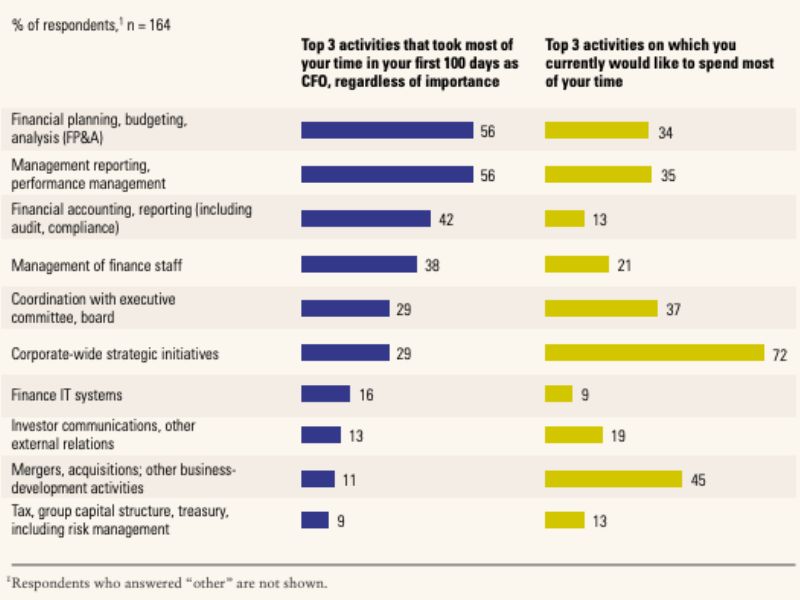 Time spent on financial planning and analysis
There are plenty of examples of how the use of valuable time is wasted and the use of inefficient time and resources, because data is not readily available.
Financial performance and management reporting
As a supplement to quickly finding out about the company's business model, strategic plans and organizational culture and competence, it is important to find out about management reporting that indicates where the business is and where it is going.
In addition to reports on accounts, balance sheets, budgets and strategic plans, it can be useful to assess which obligations and opportunities have been agreed upon for the business. In addition to internal employment agreements and cooperation agreements with trade unions, the company also has agreements with customers, suppliers, business partners, retailers, banks and financial institutions. A good agreement system will be able to easily provide good information about what the business has as opportunities in current customer contracts and what is committed in terms of costs and resources in supplier contracts .
Insufficient information and an overview of the company's contracts and contractual obligations can have major consequences. Managers and employees spend a significant amount of time uncovering data that should be easily accessible, so they can focus on valuable analysis and decision support, not manually stacking data. The consequence that time and resources are wasted in evaluating financial results and producing management reporting, which is still not completely accurate and transparent because there is no complete overview of contracts, obligations and possible penalties and performance compensation.
Most important focus in the first 100 days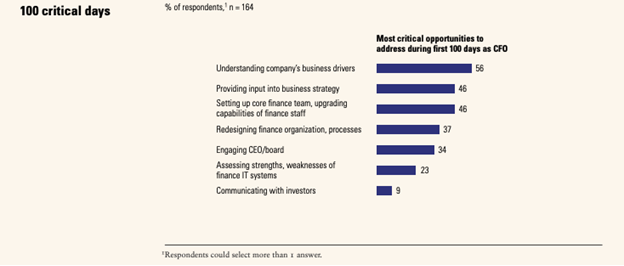 Most typical actions taken by the CFO in the first 100 days
More time for strategic planning with the right people
Forget "blank sheets"
"Leaders come and go, while the organization and its culture remain". The statement comes from a shop steward interviewed in connection with the book "Lederskifter – om ledersvägelse, phasing in of new managers and managers' first 100 days in a new job".
A new manager in the job does not have time to start with "blank sheets". The new leader must act quickly. The start-up phase is very much about taking one's place in the social landscape. The focus should be on establishing relationships and building your social network.
The company's DNA is also something you have to get under your skin. Work to understand the business model, business situation and cultural conditions. Consider the start-up phase as a golden period of freedom. Expectations for you are high, but no big changes are expected from day 1. You can gradually get hooked and take more control.
In the start-up, it is also important to think about the stakeholders around, people such as the board, owners, union representatives, employees, customers and the rest of the management team. Things you can ask them are their goals and strategies, what are their top 3 priorities, what they see as the biggest obstacles and how you can help.
Complete overview of financial plans and analyzes
Get a complete overview and performance analysis of the company's contracts and future obligations and opportunities. Key people in the finance department spend a disproportionate amount of time getting a complete overview of the company's financial obligations, costs and cash flow, when time should be spent on performance review and identifying the strategic approach for increased performance in the management team.
Better management reporting and performance management
With good and easily accessible management reports, management as well as middle management quickly provides insight into strategy processes and decision-making.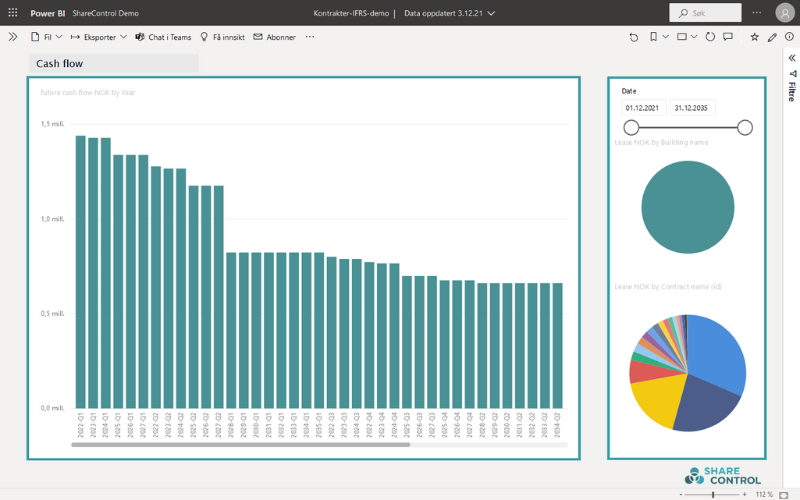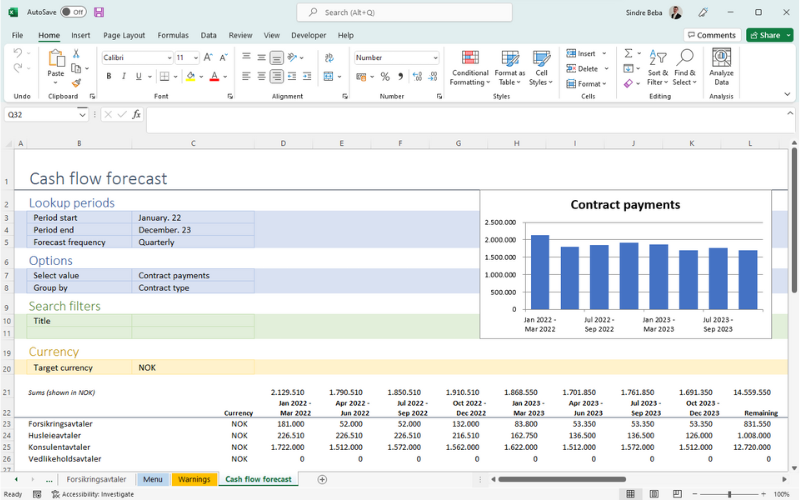 More efficient and less time spent on accounting and performance
A significant proportion of managers quit after less than two years in the job. By interviewing a number of managers, it was found out what should be emphasized in the start-up phase, which was:
adapt to his new role
emphasise building relationships
communicate credibly and clearly
understand the culture and the power play
show leadership in important situations
work with what occupies the senior manager
focus on those who will execute the strategy, and do too much yourself
In order to be able to use sufficient time to understand the business, one must go out into the organization and gather information and create relationships. It is therefore particularly important that the company's support systems are in place and provide the necessary management information.
Powerful Suite For CFO's
Contract
Contract management and agreement management for overview and control
IFRS 16 solution
Effective calculation and reporting of your leases
Board portal
Effective board work in a safe and secure manner.
Dokument
The collection point for all the company's documents.
Transparency
A place to handle all data and processes around the Transparency Act