MICROSOFT 365 SOLUTION AS ADD-ON
A place to handle all data and processes around the Transparency Act
---
We help companies manage the compliance requirements of the "Transparency Act" in one system, so you can avoid the risk of non-compliance and have full confidence that you sre compliant.
ShareControl Transparency helps you:
List of suppliers
Completed surveys
Attach all documentation, certificates and correspondence
Changelog
Status, reminders, tasks and notes
Risk assessment reporting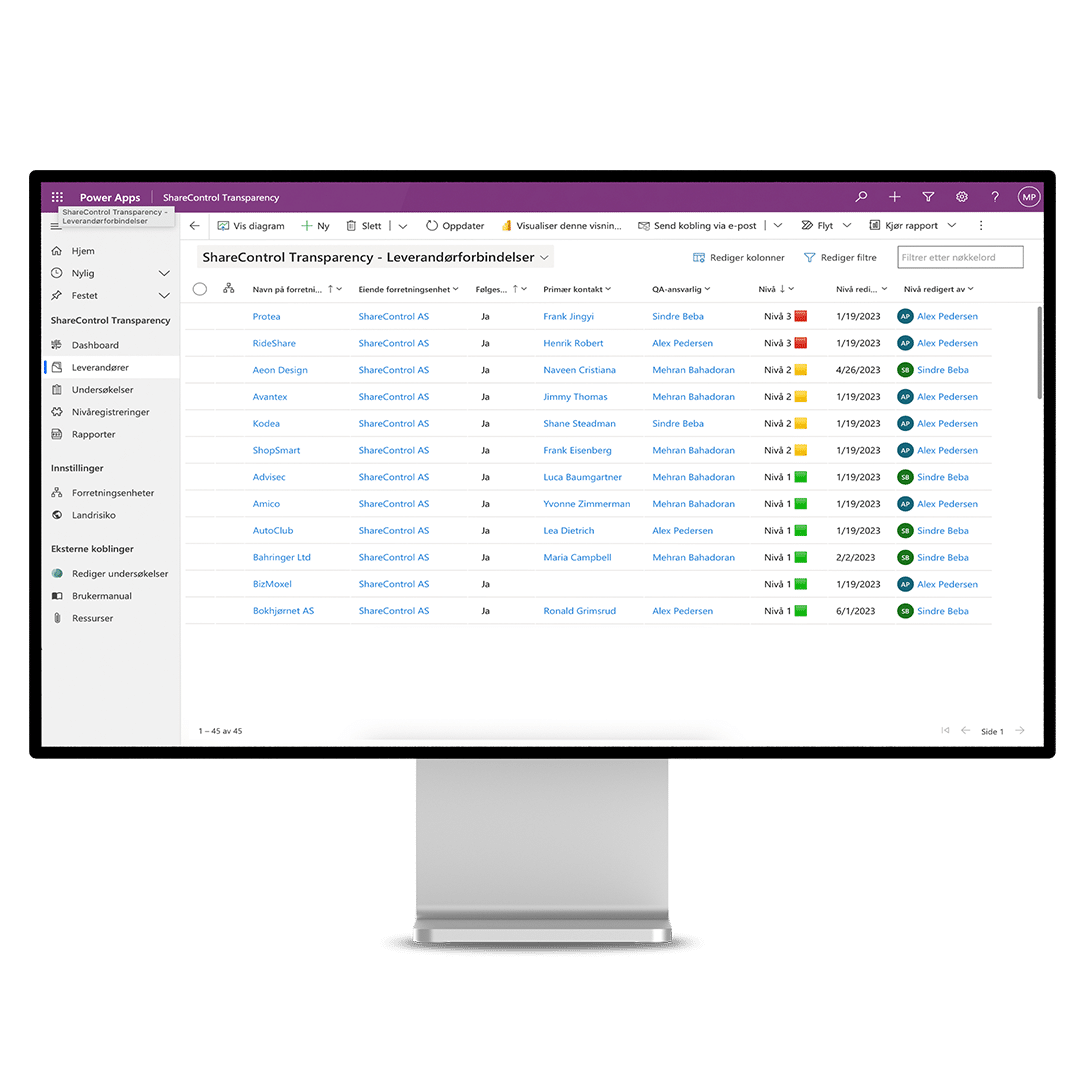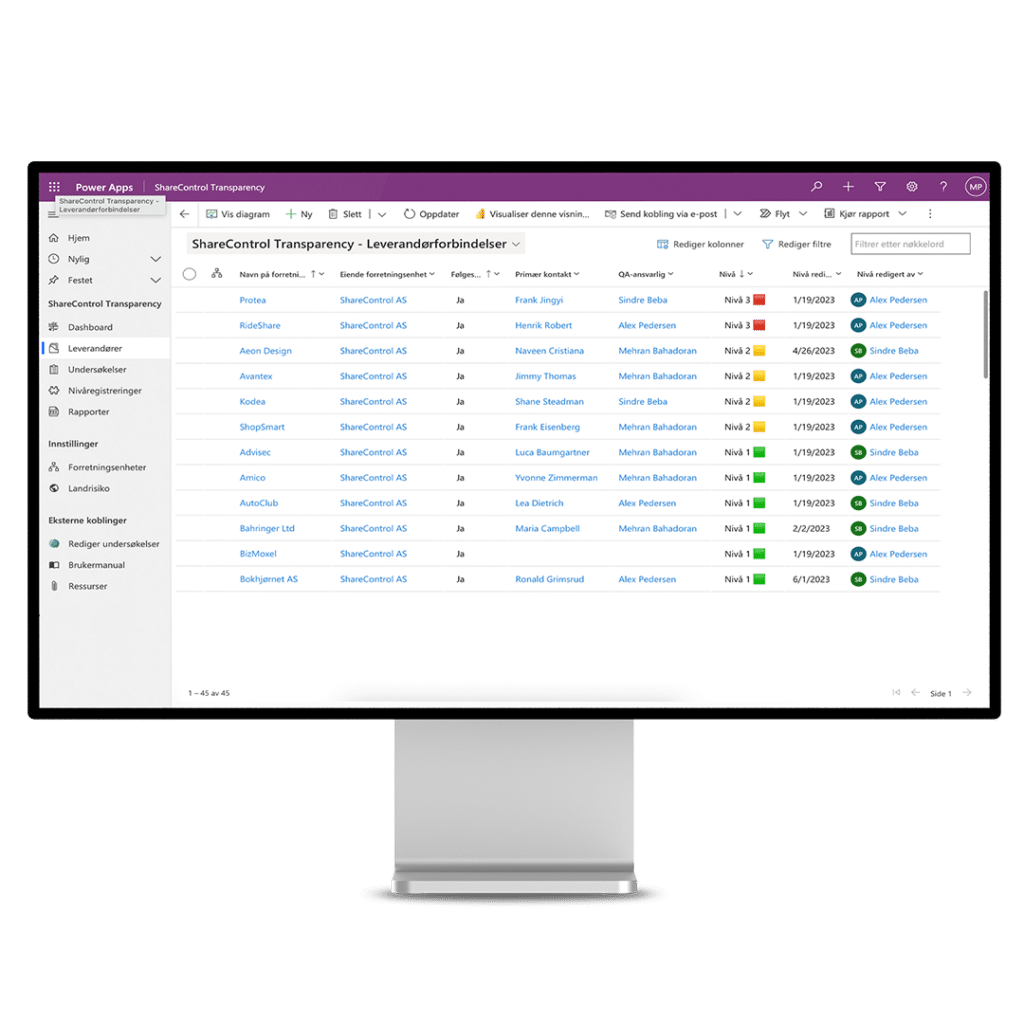 Brief about the "Transparency Act"
The Transparency Act shall promote businesses' respect for basic human rights and decent working conditions in connection with the production of goods and the provision of services, and ensure the public has access to information about how businesses deal with negative consequences for basic human rights and decent working conditions.
Businesses that are covered by the Accounting Act § 1-5, or exceed the limits for two of the following three conditions:
Revenue: 70 million
Balance amount: NOK 35 million
Average number of employees in the financial year: 50 man-years
The steps you need to take now if you are affected:
Perform due diligence assessments
Publication of report and explanation of due diligence assessments
Make arrangements to answer the right of access for "anyone"
The steps are not just a checklist, but require work, the involvement of several people in the business as well as a structured work methodology to respond to legal requirements in accordance with OECDs guidelines.
Manage all work with the "Transparency Act" in ONE system
---
With ShareControl Transparency you have a seamless process from importing supplier data to assessment and reporting
Supplier screening – Import a complete list of your suppliers and associated data such as country, industry, financial data and more.
Data Collection – Customize the easily accessible questionnaire to suit your exact needs, send it to suppliers, collect responses and attach additional documents.
Assessment – Simple overview to assess whether all necessary data and information have been collected.
Risk assessment – Assess risk based on industry, product or service category, country or other parameters .
Containment – Create containment plan notes, tasks and reminders for each vendor at risk Implements – Make notes on completed mitigation steps .
Implement – Make notes on completed mitigation steps.
Report – Use our integrated report template and adapt it to your final annual report.
Plan – Create and assign reminders and tasks for follow-up and when to start your next assessment.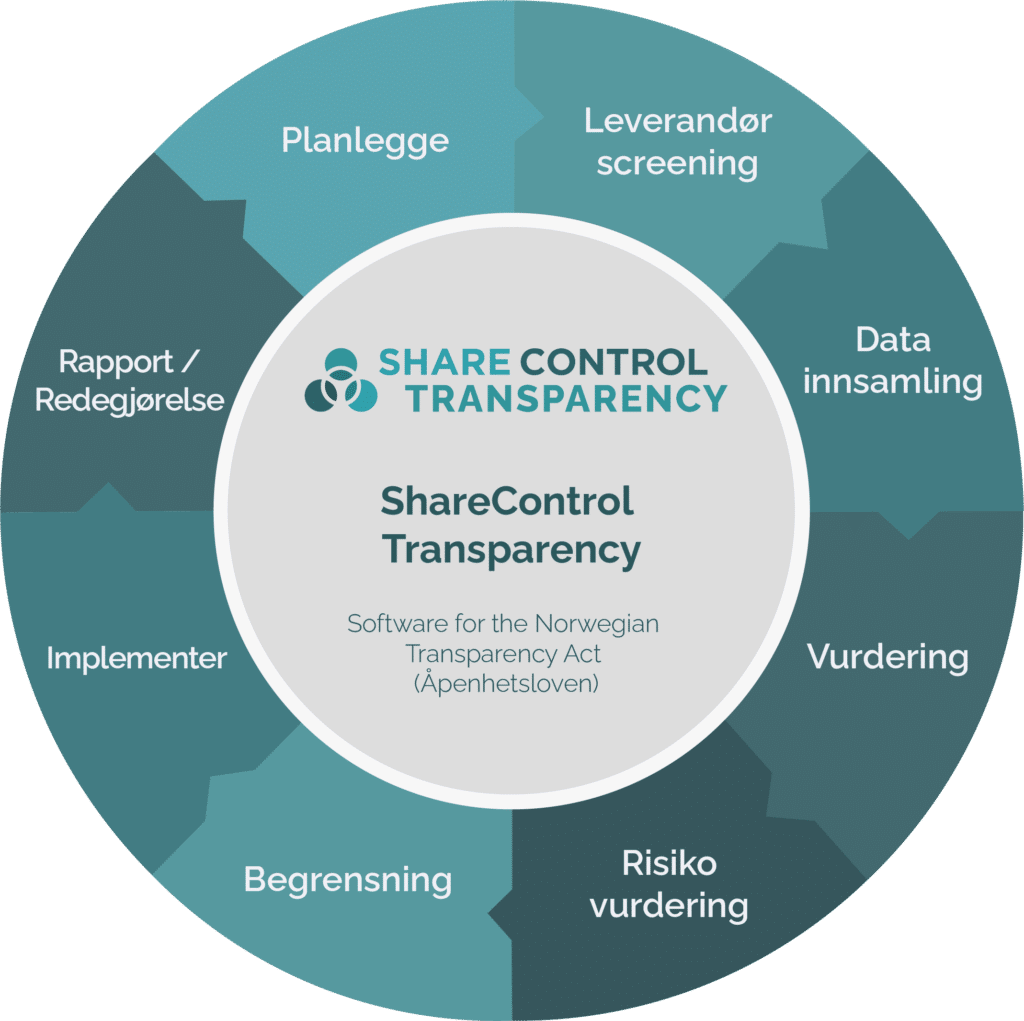 Download guide for the Transparency Act
Get an insight into all the functions and processes that can help you deal with the Transparency Act.
Get the guide in your inbox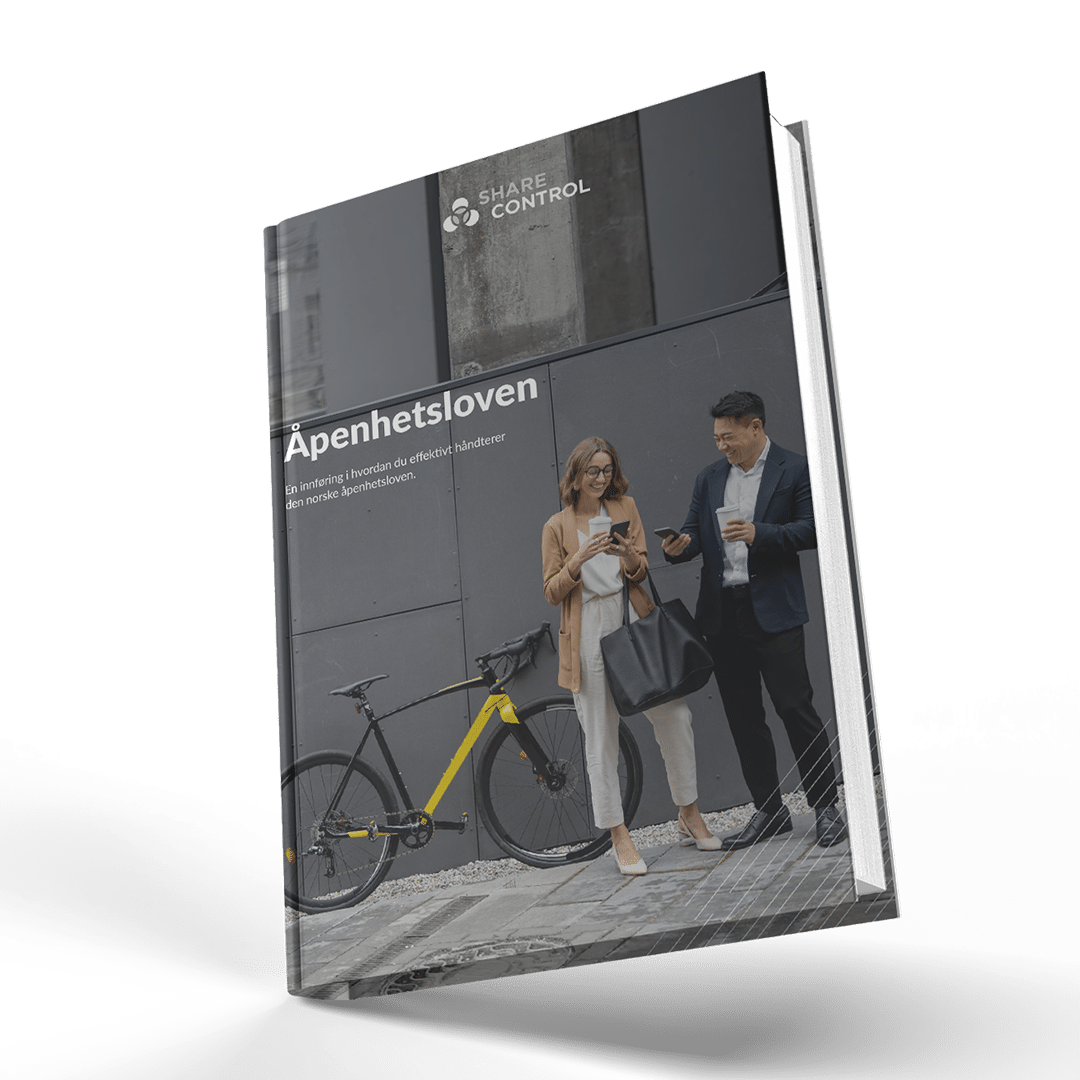 HOW IT WORKS
Start by creating a complete list of suppliers
---
Import supplier data from your CRM and finance system to get the data parameters you need for the best supplier risk assessment.
Easy import of supplier data:
Manual upload via Excel or CSV file
Microsoft Dynamics – ShareControl Transparency is delivered with clear integration to ShareControl Contract and Microsoft Dynamics.
Options from optional integrations for data import:
Other accounting solutions
Other external sources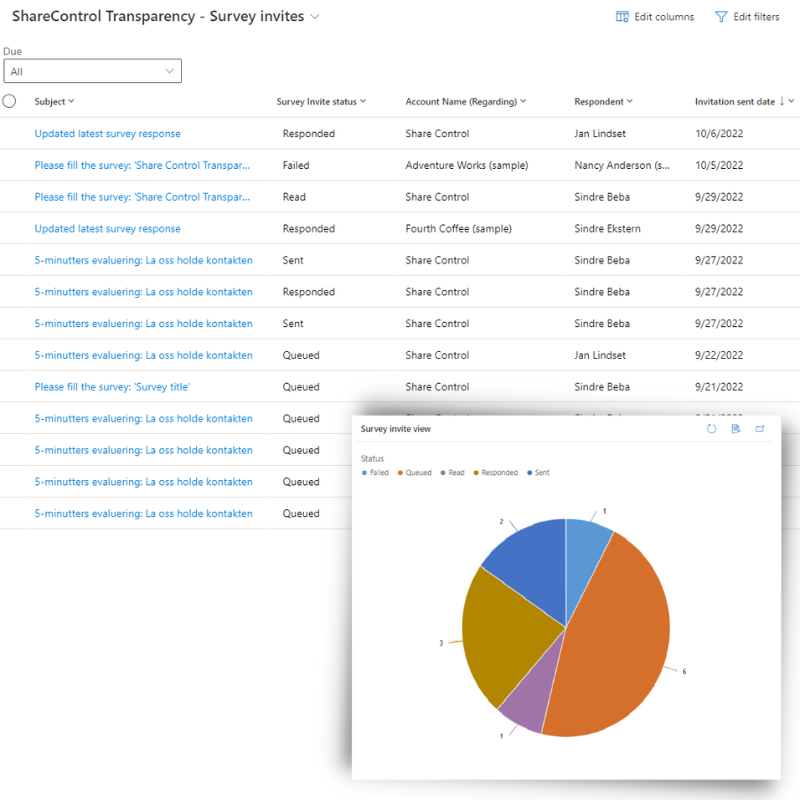 Customer who trusts us
---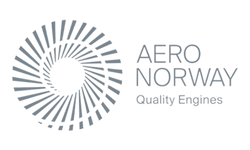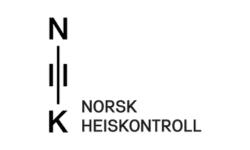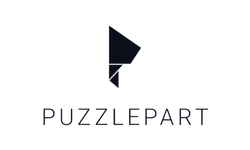 Use the finished survey or adapt it to your needs
---
Use our ready-made questionnaire and make any changes you wish to meet your specific needs.
Send the questionnaire directly from ShareControl Transparency, via e-mail to the contact person(s) at each supplier.
You can see exactly who received the questionnaire and who submitted it, and create follow-up tasks and reminders for those still missing.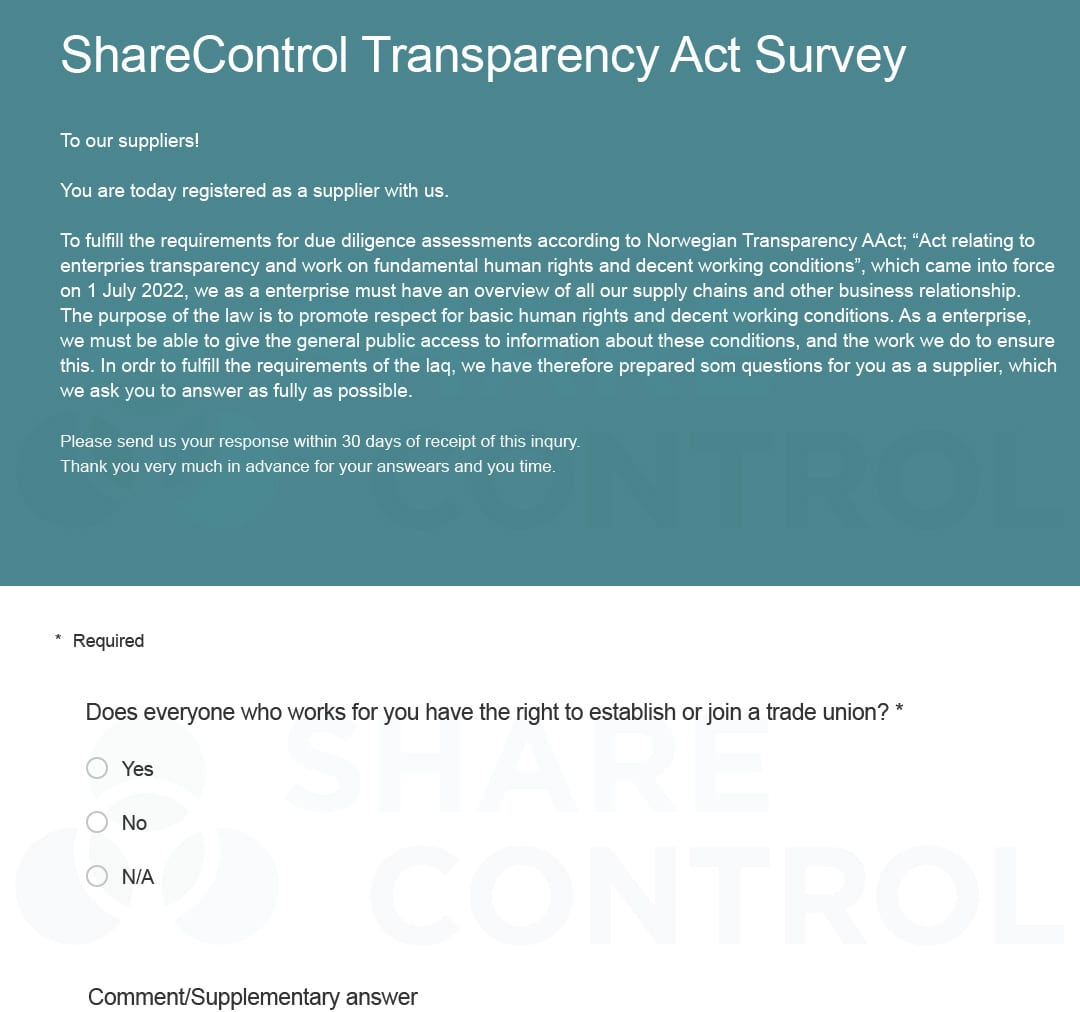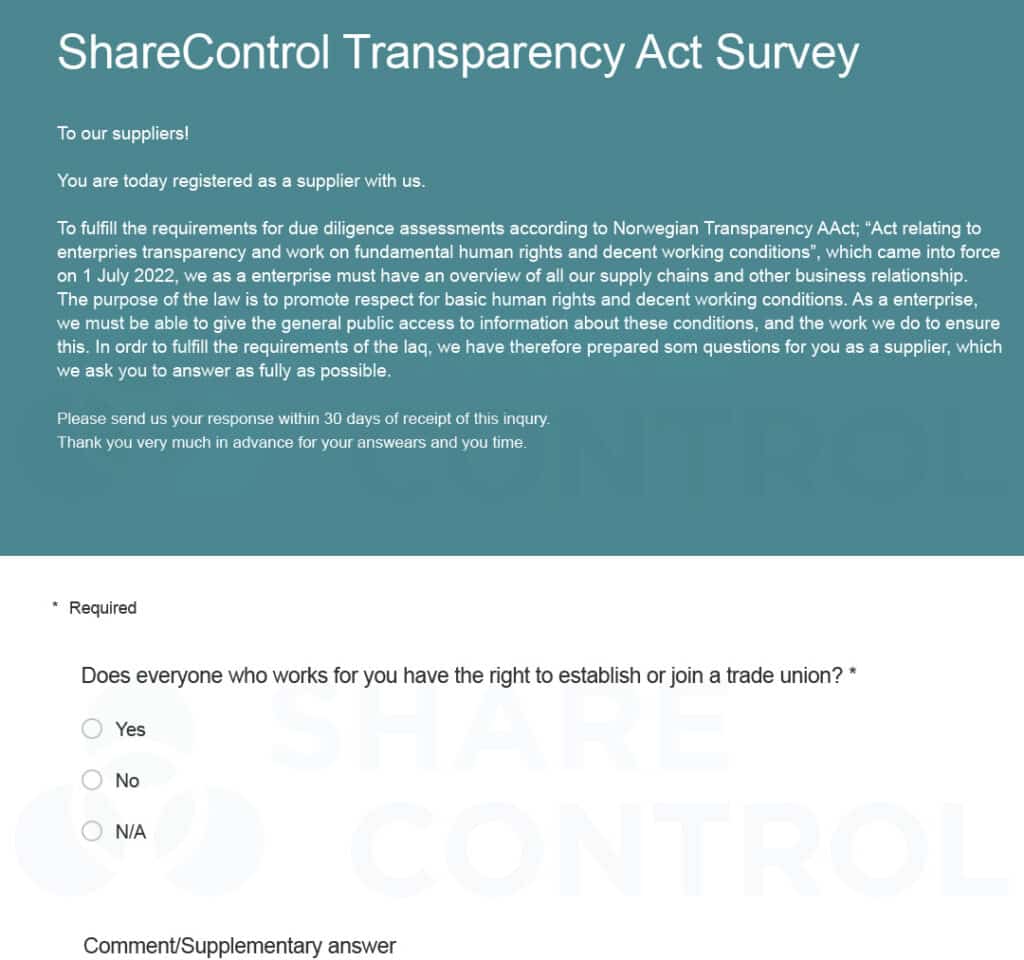 All your supplier data and documentation in one place
---
Expect to receive additional documents and certificates from your suppliers and link them to the supplier account in ShareControl Transparency, so you have ALL documentation in one place and a complete overview.
Give access and permission to relevant persons who help manage the Transparency Act's compliance process.
Define tasks and reminders:
Deadlines
Follow up
Requested documents
And much more
ShareControl Transparency helps you to avoid manual processes and losing track by handling all processes in relation to the Transparency Act.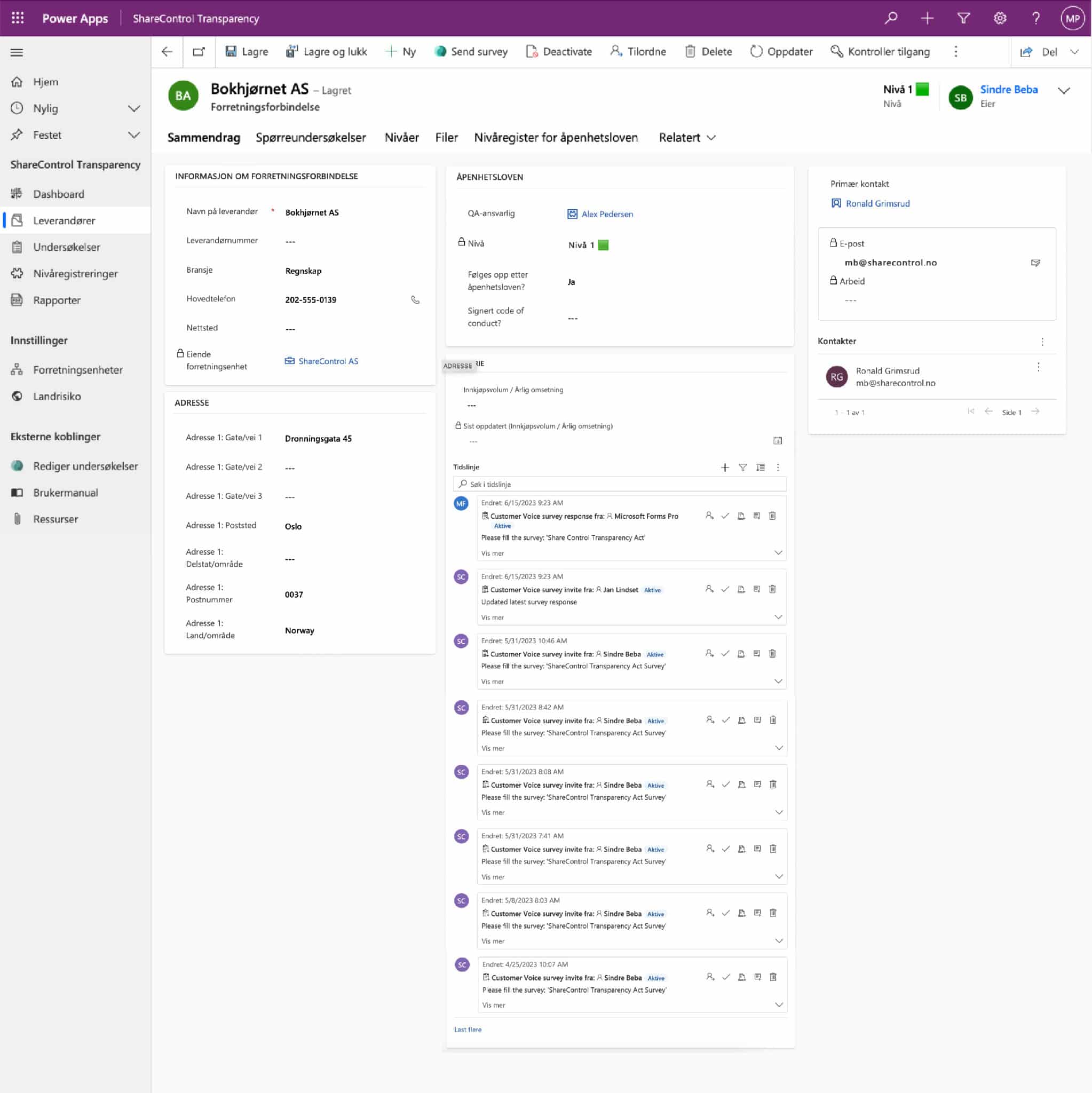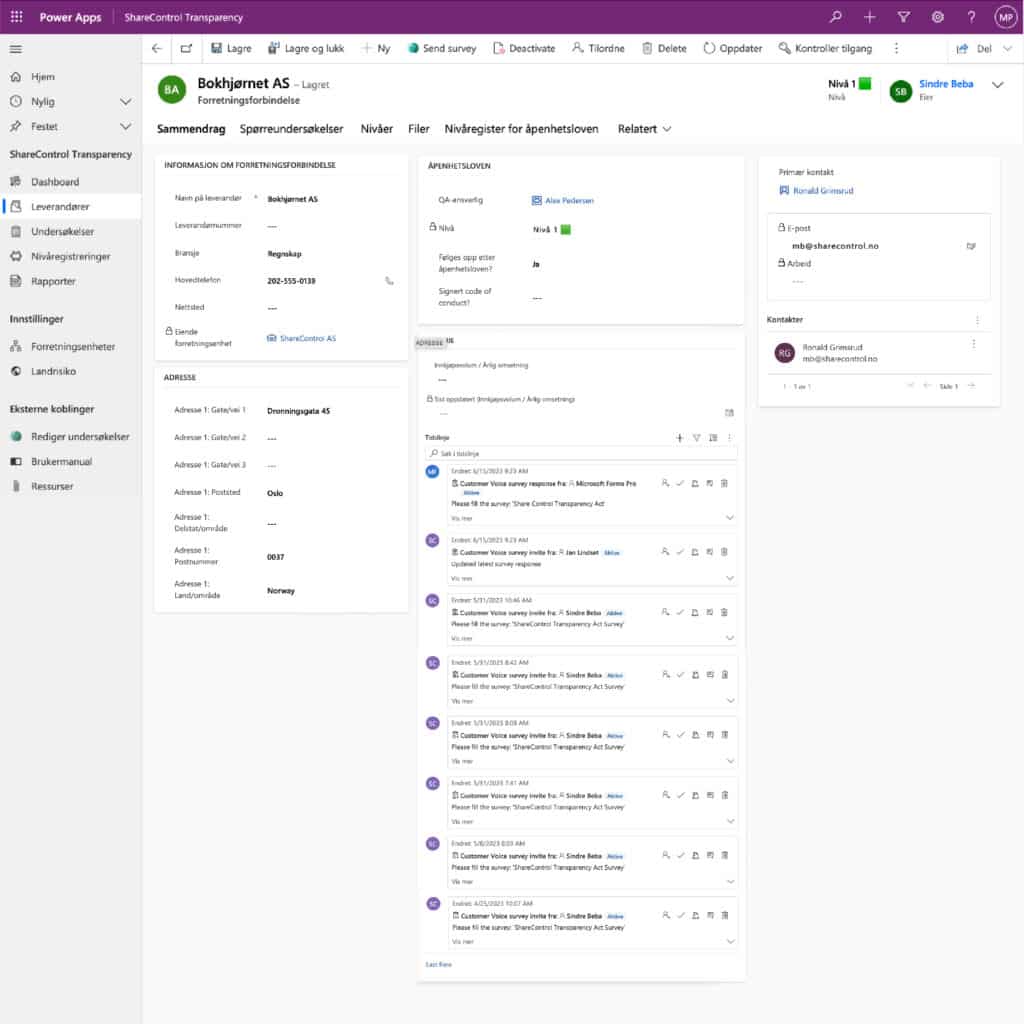 Classify supplier risk based on any parameter
---
Classify your suppliers into relevant categories related to the risk they represent to your business:
Risk exposure: Paid invoices
Relationships: Existing or new third party supplier
More categories you find relevant
Parameters can be imported from the CRM or ERP system with optional integration.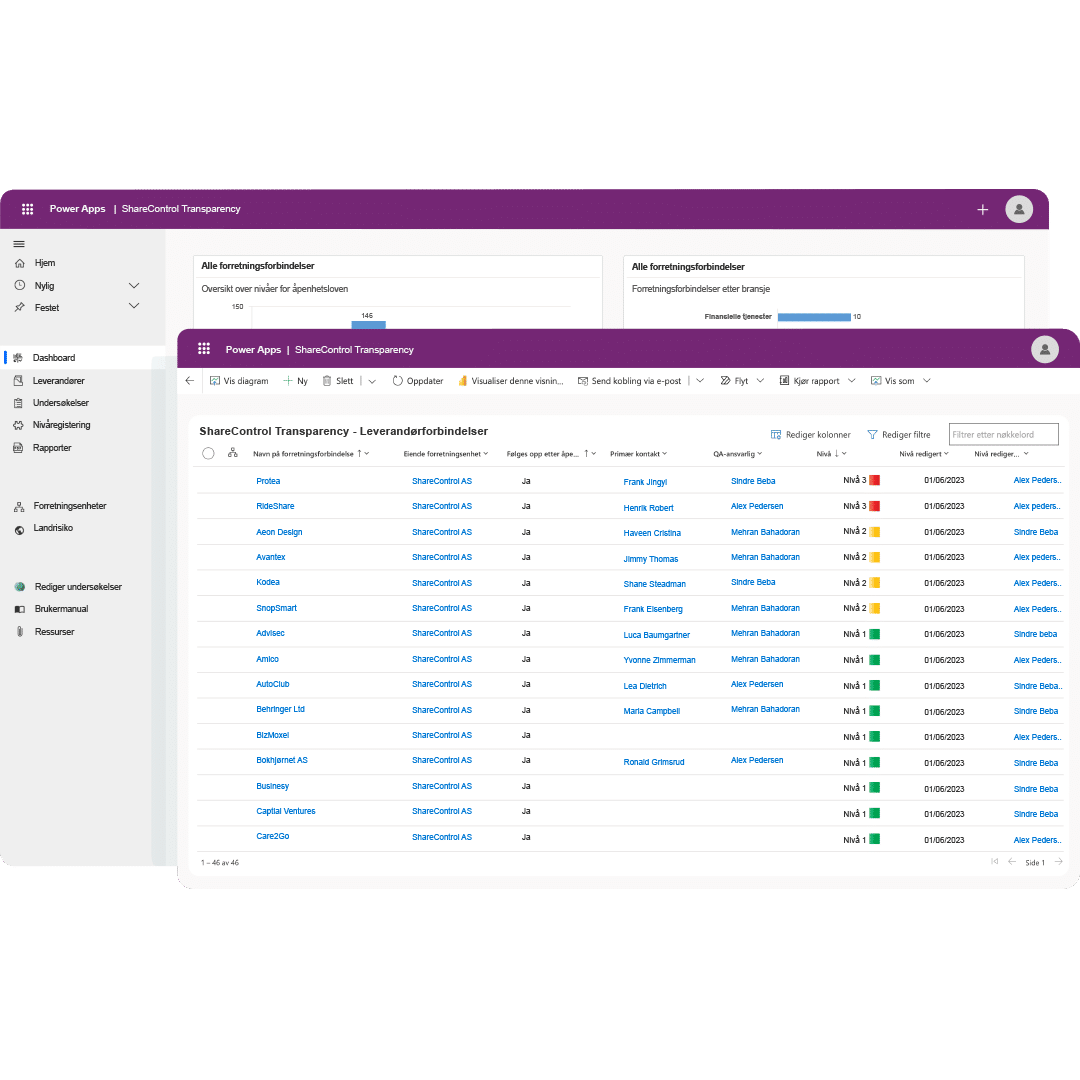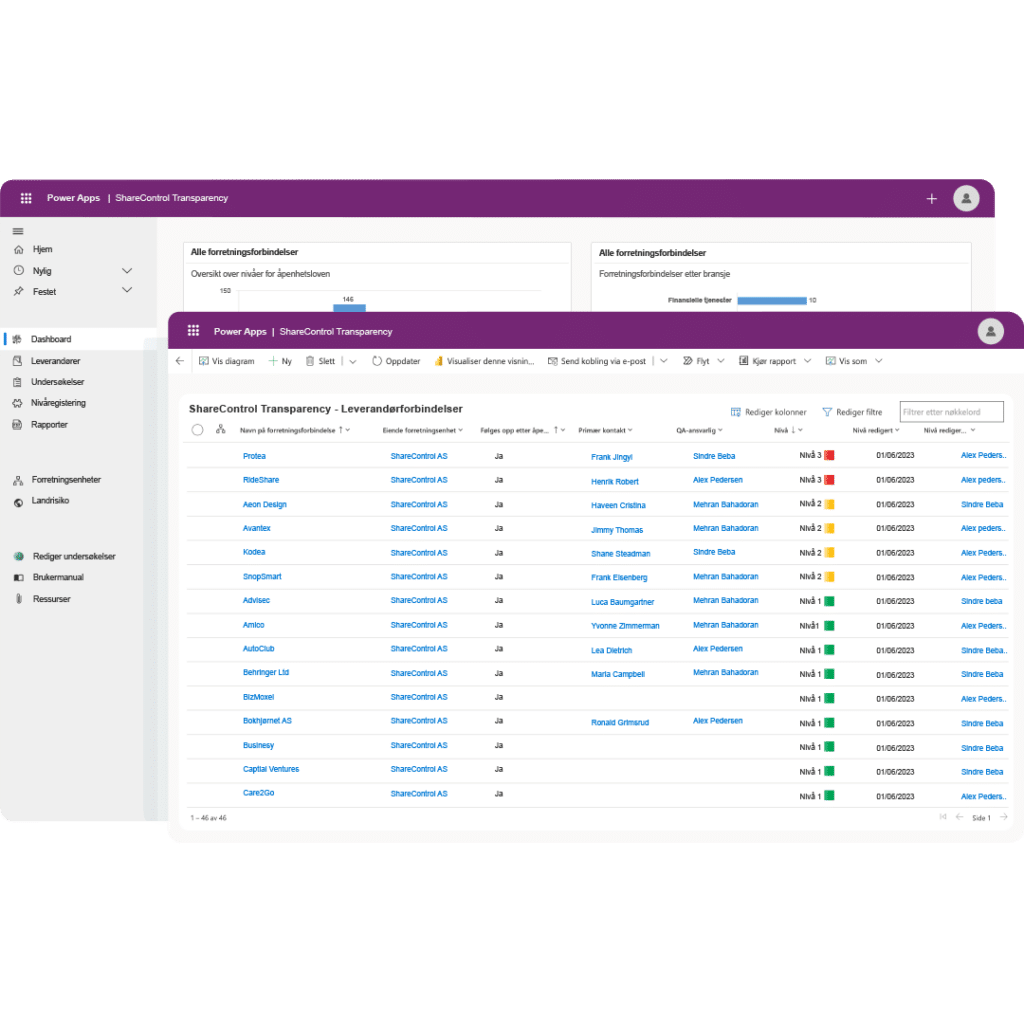 Complete overview of risk assessment of suppliers
---
Finished dashboard for full overview
Finished dashboard showing a summary of suppliers by risk category and risk rating for each supplier.
Easily make changes to the parameters that affect the risk assessment, so that they suit the needs of the company.
Creating custom reports
Ability to set up custom reports using Power BI and Excel
Possibilities for special adaptations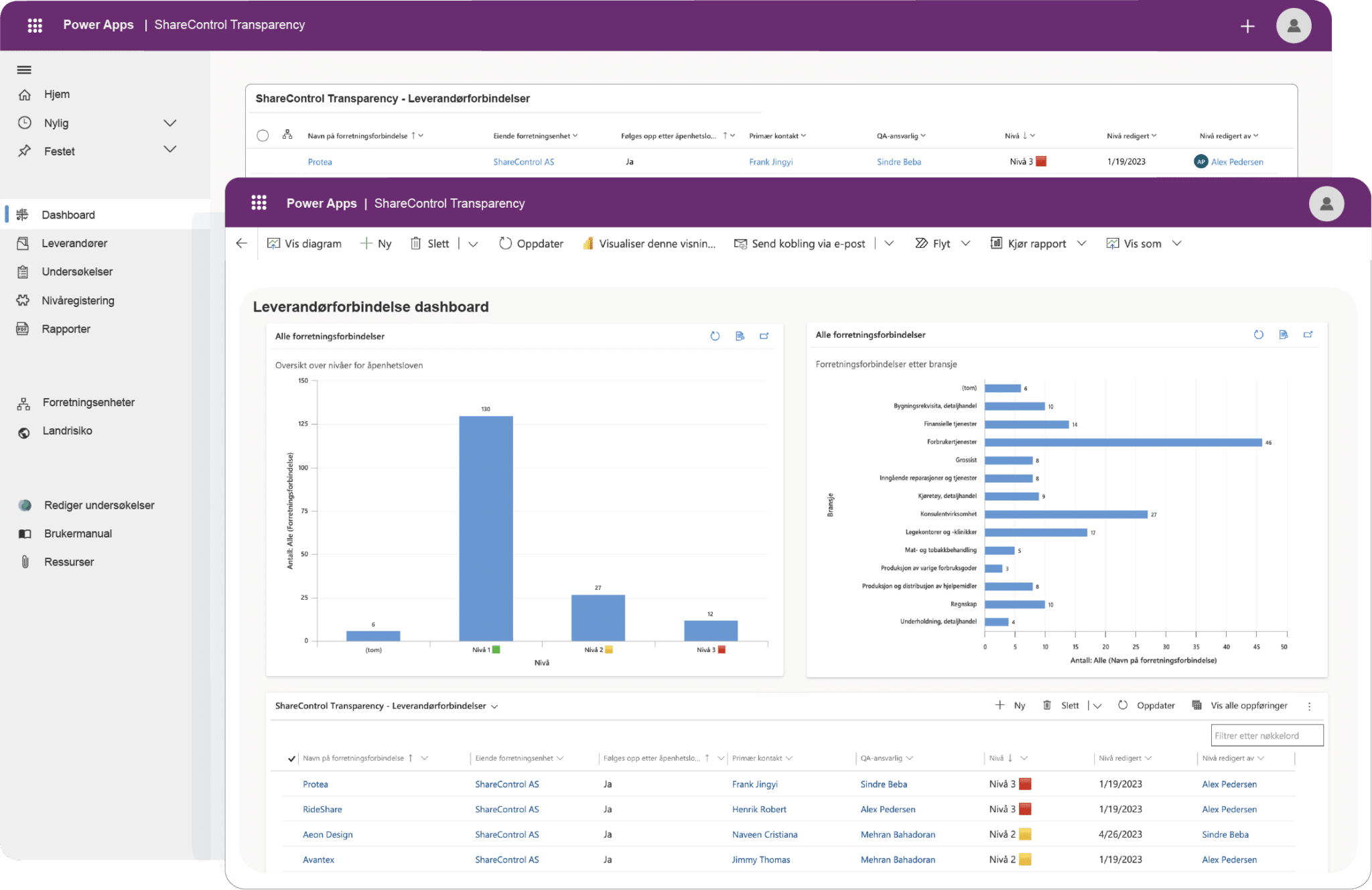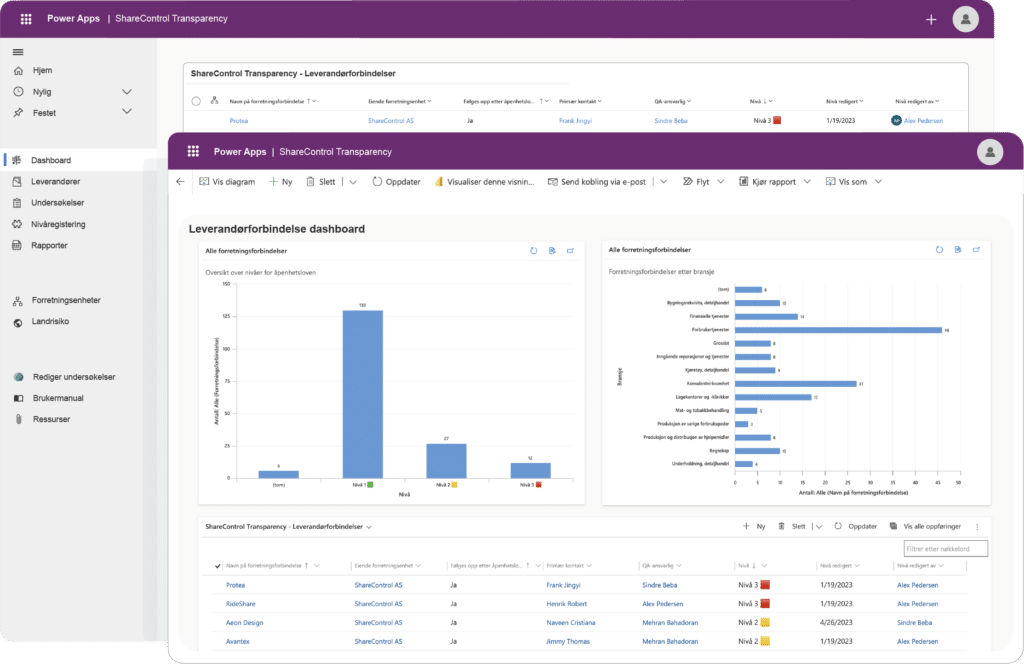 Ready to get started with the Transparency Act?
More FEATURES
Digital Signature
Integrated DocuSign for seamless digital signature of contracts.
Integration
Integration to accounting and reporting programs such as SAP, Visma, Power BI and more.
Security
A Microsoft 365 add-on where you already control user access, network security.
Data Privacy
All data is stored in your Microsoft 365 cloud, owned by you and under your control.