What are the total costs and obligations of your contracts? Contracts are often managed using many different spreadsheets, in different departments, with no indication of where the latest version of the contract can be found.
Contracts cost a lot of time and money to draw up
Designing new contracts, or renewing old contracts, often starts with finding existing and similar contracts to shorten contract design time and help ensure that clauses and obligations are not missed and pricing is matched with the best the contracts.
Time spent on contract creation and renewal:
| Challenge | Target |
| --- | --- |
| Time spent on contract creation/renewal | Possibilities for effective contract management |
| Quickly find existing contracts | Have all the contracts in one place |
| Evaluate contracts | Easy to search, filter and find relevant contracts |
| Create new sales agreements or supplier contracts | Achieve time savings by reusing previous agreements, efficient sharing and electronic signing |
| Assess the prices for the services offered, as well as adjust the prices with the CPI every year | Will increase turnover |
| Get approval from various managers | Provides efficient case management and better internal control |
Across our many customers, we see clear opportunities to shorten the contract drafting process and reduce non-productive time.
Lost Turnover
Up to 9% of a company's total annual turnover is lost each year, according to

– World Commerce & Contracting-studien.
Typical pitfalls in contract management you should avoid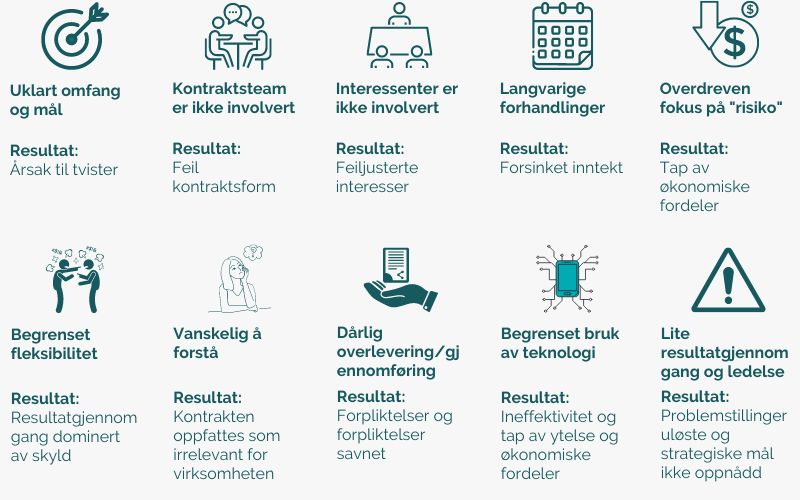 Get a complete overview of future costs and contractual obligations
How many contracts does the company have and what are the total costs and liabilities?
Find and access the latest version and changes of any contract in one system
Simple overview and reporting of all contract costs or categories of contracts
Get a full financial overview of your contractual obligations on both the customer and supplier side.
Complete and accurate reporting of all contract costs and obligations
What could be the costs or opportunities of not renewing a contract or not exercising an option. It can be compared to asking "how many trees are there in a forest?" At least what we know is that it can lead to a lost opportunity or impose a cost on the business. There are stories that a tenant is on a long-term lease in the high-rise on Økern. All other leases have ended and the surrounding area has been rezoned for housing and other conditions. Commencement of this work is awaited until the remaining tenant. What do you think this deal is worth?
1 million kroner, 10 million, or more?
Other examples that may be relevant are a business that has forgotten not to renew its tenancy agreement. The landlord is "sitting on the fence" and waiting, because they have other plans for the property. The property must be rehabilitated to be used for other purposes. Worst case in such cases, the tenant must move out at short notice.
A rule of thumb here is that a planned move costs about a year's rent. An unplanned move will probably cost more and who really wants to be left as the culprit who forgot to renew the agreement in this situation?
Create a solid process for your contract management
Top 10 benefits of good contract management:
Have clearly delegated responsibility for which function and/or employee follows up on the agreement
Have a common place to store company contracts and related documents
Have good processes and functionality by searching for existing agreements, before new agreements are drawn up
Possibility for efficient reuse of existing agreements and documents with the possibility of efficient sharing when preparing new ones
Option for electronic signature
Notification on expiry of agreement periods or renewal
Possibility to set up activities/tasks or contractual obligations to be carried out after a given time.
Gains an overview of the company's financial obligations going forward.
With good search capabilities, the company can achieve economies of scale by reducing the number of suppliers.
Reduce costs by taking control of the company's agreements. Don't let the supplier take control
Simple possibilities for consolidation and cost savings
A contract system must, in a simple and clear way, show an overview of when contracts expire, are renewed, when options must be exercised or when other contractual obligations must be fulfilled. In addition, a contract system must show the company's total future contractual obligations, with the option to select further by type of contracts and content, locations, business units, etc.
Example of such an overview: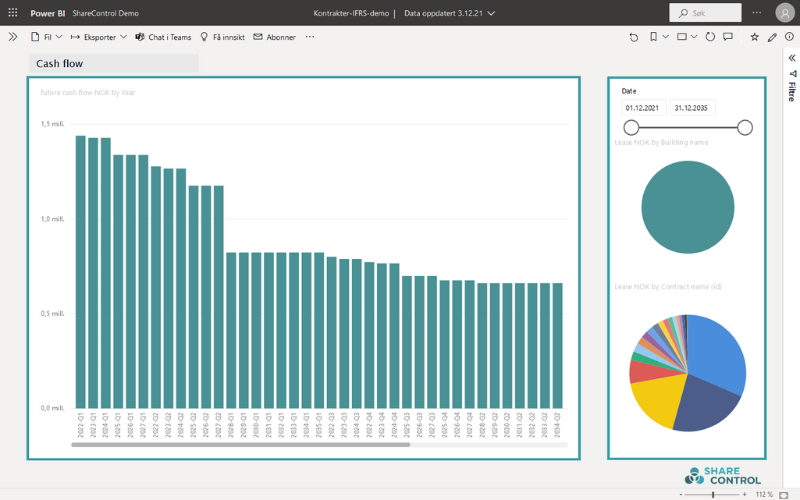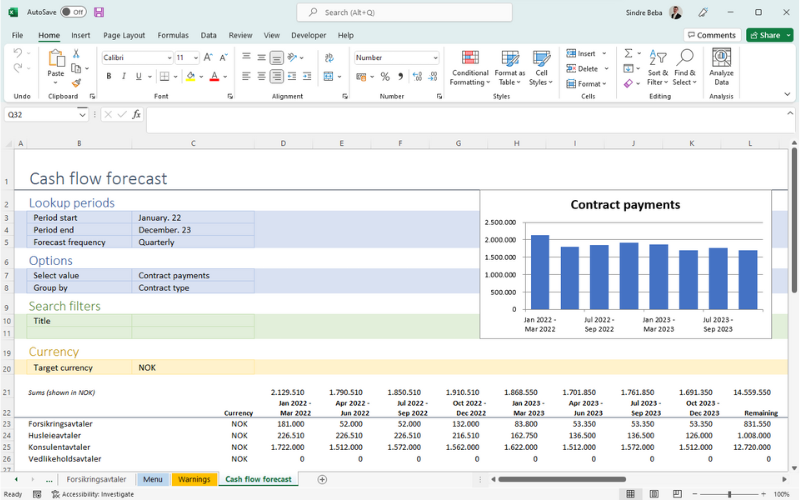 An example from an article from the online newspaper iTromsø about a business that has clearly not adopted a contract system:
Tromsø municipality has agreements worth over 200 million which have expired – experts have never experienced anything like this
– I can't think of similar cases with such a large scope and such large amounts, says lawyer Marianne Dragsten.
in Tromsø revealed in an inspection before Christmas that Tromsø municipality has allowed 24 framework agreements on procurement to expire, without renewing them. The municipality has refrained from announcing the contracts again. Instead, they have continued to buy goods and services from companies.